Education Sessions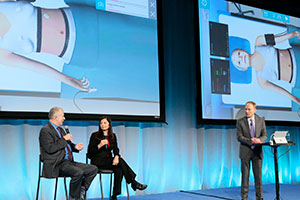 Today's cardiovascular professionals face a multitude of changes that affect how they will practice medicine in our evolving health care system. They need continuing education that combines the latest advances with information on how that translates into daily clinical practice. ACC combines innovative approaches with a variety of learning experiences across our learning pathways to help meet the needs of the learner.
About the Sessions
ACC.17 will offer a variety of session types to meet your needs, from interactive sessions to lectures and simulations. Learn more below.
| | |
| --- | --- |
| Session Type | Description |
| Boot Camp | A series of specialized sessions focused on specific topics, generally appealing to specific targeted audiences and designed to be attended as part of a continuum. ACC.17 features a Fellows Interventional Bootcamp and a CV Team Bootcamp. |
| Clinical Focus Session | These dinner sessions focus on practice-changing topics in cardiovascular medicine and serve as both the extension and summarization of the data presented during the day. Each session has the goal of translating new data into practical applications in patient care. Learn more >>> |
| Core Curriculum | Fundamental, "bread and butter" treatment of CV topics designed to maintain and increase your knowledge to keep you up-to-date and relevant. |
| Engage Studio (includes Gaming and Special Sessions) | Explore this venue (located in the ACC.17 Poster Hall C) which features a 200-seat theater with a 180-degree stage designed for audience participation. The Engage Studio will be the center of many of interactive and novel events including the FIT Jeopardy Competition, Simulation Sessions, a Newlywed Game, an Ask the Experts session and much, much more! Learn more >>> |
| Intensives | One of ACC's most popular session types, these half day "mini-courses" focus on new and growing areas of CV practice. Attendees should plan to stay for the complete time frame for maximum knowledge exchange and interactive and innovative education immersion. The 3 topics of focus at ACC.17 will be Palliative Care, Equity in Health Care and Faculty Development. Learn more >>> |
| International | Our International Perspectives sessions feature sessions co-sponsored by CV societies from around the world, sharing insights on CV disease concerns and how CV professionals in those regions cope. |
| Late-Breaking Clinical Trials | Late-Breakers include presentation of brand new results from clinical trials hot off the press, followed by a panel of experts discussing the impact of the results. Learn more >>> |
| Learning Destinations | Industry Partners share diverse, non-certified*, educationally focused presentations that offer attendees new and creative ways to expand their educational experience. Learn more >>> |
| Live Cases | Attendees get a chance to see top experts in action during six interventional live case presentations from three institutions while a panel discusses their every move. |
| Non-Certified Events | Non-CME events such as ancillary events and learning destination presentations. |
| Oral Contributions | Abstracts presented in a session room with a "year in review" talk to kick-off the topic. Other oral abstract sessions include the YIA, interventional Challenging Cases and FIT "Stump the Professor" sessions. |
| Personalized Skills Center (includes Drill and Practice; Hands-on Simulation; and Self-Directed Learning Modules) | Put your skills to the test in this self-paced learning environment located in Salon A on the street level. Attendees can experience Heart Songs, ECG and Echo Drill & Practice or participate in the Sim Center simulations. Visitors to the Skills Center can also take/submit MOC test question modules, listen to live-streamed sessions, peruse the ePosters system and opt to catch up on their exercise routine by simultaneously learning on iPads and peddling on an exercise bike at the same time. |
| Poster Contributions and Moderated Poster Contributions | Abstracts are presented as a traditional flatboard poster or in a poster theater with a moderator leading discussion and questions. |
| Scientific Sessions | Scientific Sessions feature a wide variety of delivery methods to include 75 – 90 minute lectures, panel discussions, debates and more. |
| Symposium | These all-day programs offer consecutive sessions which are meant to be attended in the entirety. ACC.17 will feature Cardiovascular Update for the Clinician, a Pharmacology Program and Training Program Directors' Symposium. Learn more >>> |
| Test Your Knowledge with Questions/Self-Assessment | During these 2.5 hour sessions, attendees use an audience response system to respond to multiple choice questions. Presenters discuss the correct answer in an open dialogue with attendees. |
Use the ACC.17 Online Planner to browse sessions and start building your itinerary.